DG Jennifer Touzel's Biography

Jennifer Touzel was born in Wentworthville and grew up in Lidcombe with her parents, two younger brothers and her grandmother.
She attended Lidcombe Public School (as did her father) and then went on to Auburn Girls' High School. She continued her education at Granville TAFE with evening courses.
Jennifer took on a career role in the newspaper industry. She has over 40 years' experience in the printing industry and during that time has assisted a number of people to grow and develop their skills.
She has accumulated a respectable list of published newspaper articles in the Parramatta & Hills News and Hills TV Magazine plus sub-edited a number of other publications over the years. She has also taken part in the management of a number of businesses. She has had experience as a Director of a company.
One of her proudest achievements are her two daughters, Christine and Belinda, who have grown into delightful young ladies.
Jennifer joined Crestwood Lions in 2004 and was elected President in 2007 and again in 2012. Twelve months after joining Lions she became Secretary of the club and has held this position 11 times and continues to enjoy the role. She has also taken on the role as Bulletin editor a number of times and enjoys taking photographs at club events to keep members and friends of Lions informed of important upcoming events.
Her community work outside Lions has included: Secretary of the Sydney Hills Tourism Committee, been involved with Grand United Order of Oddfellows Friendly Society, Secretary of the Ten-Pin Bowling League, assisting at a number of council elections and assisting at a number of major annual fundraising events.
To date, Jennifer has served on eight District Cabinets: once as Lions Hearing Dog Chairperson, twice as Shadow Cabinet Secretary, five times as Cabinet Secretary, once as Zone Chair, once as Lions Clubs International Foundation District Co-ordinator, six terms on the Sydney 88 Committee, and in 2017-2018 as 2nd Vice District Governor and in 2018-2019, 1st Vice District Governor.
Jennifer's track record demonstrates that she is a dedicated Lion and she leads by example. She is a Progressive Melvin Jones Fellow.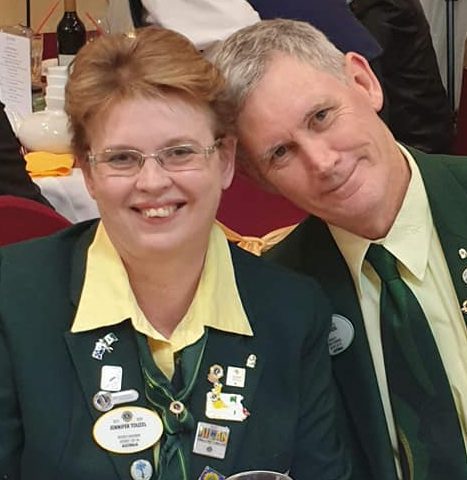 Jennifer met her husband, Peter, in 1983. Peter was an Accountant and a director of a Credit Union. Peter joined Lions in 2008 and is currently the District Cabinet Treasurer. They were married in 1984 and moved to Old Toongabbie in 1985, where they have resided ever since. They have two daughters, Christine, a Systems Accountant and Belinda, who works in Accounts Payable.

Jennifer enjoys ten pin bowling, stamp collecting and looking after two grandchildren.
Jennifer's focus this year will be to have clubs collaborate to support the community through service incorporating the latest technology to communicate the many projects Lions do utilising social media and other communications tools.
Jennifer's theme for 2019-2020 is "We Serve with Love & Pride".